Welcome to our Year 6 page 2019-2020
Hello and welcome from all of the Year 6 staff at St Peter's this year.
The staff in year 6 this year are: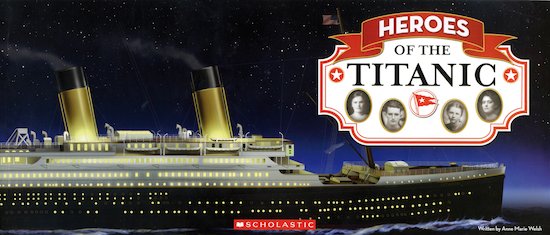 Spring Term: Titanic: The Unsinkable!
Year 6 will delve into the fascinting topic that is the Titanic. During this topic, children will learn all about the different aspects of the Titanic from the incredible scale & size of the vessel, the fatal journey she undertook as well as the different types of people that were on board. In addition, we will also look at reasons why the Titanic was a significant historical event, why she sank and discover some gruesome facts along the way!
Homework:
In their diaries, children should record their spelling, tables and reading practice each night. Diaries must be stamped each day. If they have not been completed, dinnertime will be used to ensure regular practice occurs.
Children can also do further practice using the various online platforms that we provide for them which include Times Tables Rockstars, Prodigy Maths, Read Theory & SPaG.com. Please note that these are regularly checked and updated so they match the content we are working on in class. From time to time, your child may have to complete assignments on these.
Spellings/Tables/Reading:
Children are tested on spellings and timetables every week on Thursdays. Please ensure that your child practises these every day to ensure quick mental recall. Children may be required to do additional learning during breaks if they are unable to recall these during tests.
Children have a reading book and a library book. They can change these themselves during break and dinner time. As long as your child is reading, any materials from home such as books, comics, newspaper & magazines etc are all good practice - whatever they find interesting. Reading practice can also be supplemented with Read Theory, an online reading platform that provides children with comprehensions that are appropriated for their own ability. Children should have their login details written on their homework diaries.
If you have any questions you would like to ask any Year 6 staff please do not hesitate to ask.
Important notice:
If your child is walking home, can you please make sure you have communicated this to school to avoid any delays in your child getting home. Thank you.
PE: PE kits should be in school every day. We do PE lessons every Wednesday in the Sports hall. Kits can be taken home to be cleaned at the end of every half term.
WWII Food
WWII Food
Safe Squad
Safe Squad
Y6 Camp
Little Rocky's